Navis Supports the Troops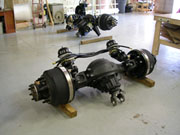 Navis Pack & Ship of Dallas (TX-1062) landed a contract to crate and ship truck axles ordered by the Afghan national army. Axles are in big demand in Afghanistan due to frequent damage from land mines.
The axle manufacturer requested quotes from our Navis TX1062 along with several other companies they found on the Internet. But franchisee Kevin Wortley said the customer quickly narrowed the field to Navis "after we demonstrated that we knew what we were doing with international and military crates." Kevin called a fellow franchisee with experience as a logistics officer in the Air Force Reservice for advice on designing the "mil-spec" crates. The Navis Help Desk also helped TX1062's co-owner Marc Oxford quickly locate a supplier of certified heat-treated lumber and design the cradles and bracing that would immobilize the axles.
TX1062 shipped the axles to a temporary storage facility in the U.S. where they were consolidated with other goods going to Afghanistan. 
Navis Masters the Art of Packaging

Navis has proven its fine art expertise for even the most fragile and valuable art items. This $145,000 Michael Parkes original was meticulously packaged and shipped from our Navis location in Laguna Hills, CA to a collector in Texas. It is the meticulous care we put into packaging that makes Navis the preferred shipping company for museums, galleries, art consultants, and collectors.


Navis Pack & Ship in Toronto, Canada was among high-profile companies as a sponsor of Art with Heart, a prestigious charity art auction in Toronto.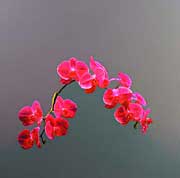 Ray Friedman and his team mingled with more than 1000 collectors, artists, gallery owners and other corporate sponsors at three glittering events. They also made personal contact with more than half of the successful bidders by delivering their purchases.
Art With Heart is an annual event that benefits Casey House, a supportive care organization for people suffering from AIDS and HIV. This year's auction of 86 paintings raised more than CN$400,000.
A $27,000 James Lahey painting, one of 44 works delivered by CN-1005
"Ray donated art packing and delivery services, including set-up at two preview events, at the auction itself, and delivery to buyers within greater Toronto. The works ranged in value from CN$1,000 to CN$27,0000.
CN-1005's long-time client and referral partner, Ritchies Auctioneers, recommended Navis Pack & Ship to the Art With Heart organization. In exchange for the sponsorship, CN-1005 received exposure through the event's website and promotional materials. Most importantly, they were able to include a packet of information about Navis Pack & Ship with each work they delivered.
"This was an expensive exercise, but it gave us direct access to important art collectors in Toronto," Ray said. "It was worth the investment. We will be doing it again next year for sure."
The Navis Pack & Ship logo was displayed as an event sponsor in the gallery as well as on the Art with Heart website and in event materials.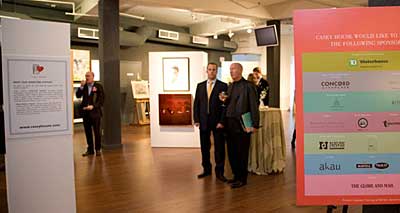 Laser Measurement System for NASA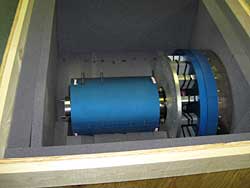 Accumetrics Associates is the leading manufacturer of digital rotor telemetry systems for measurements on rotating machinery. When the Schenectady, NY, company sold a laser-based system to the NASA Ames Research Center in Northern California, they needed a shipper that would insure the $200,000 value. Yellow Transportation referred them to Navis.
Navis' Logistics Manager Brett Monson handled the shipment for Accumetrics. He obtained insurer approval for the manufacturer's crates and packaging and booked Yellow Transportation as the carrier. The system included five components, all individually crated by the manufacturer, 18 spools of cable and spare parts. 
Flywheel Pushers: 900 Servers Later, Navis Still a Standout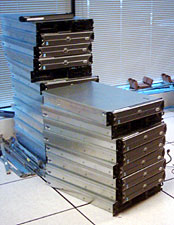 What's in a name? For our team in Baltimore, their biggest job ever and a happy new customer.
NaviSite is a global company that provides web-hosting and other IT services to more than 1400 businesses. Last October, it acquired a Baltimore firm and needed to move 900 servers to Andover, Mass.
"Our NaviSite contact admitted that she picked Navis from the Internet search because our names were so similar", said George Mackertich, franchisee at MD-1075. After the first call, however, it was Navis' responsiveness that won the job. "We were the only company that would meet their timeframe," George said.


Big Job, Tight Timeframe
NaviSite called October 22, asking if Navis could pack and ship an IT center housed on the 13th floor of a downtown office building. The building lease was expiring on October 31. And, oh yes, most of the work had to take place over the next weekend, with overnight delivery, because the servers hosted live websites.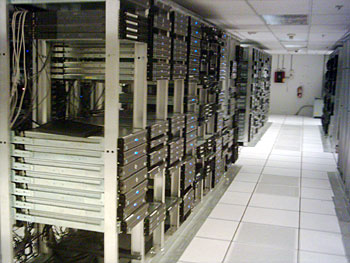 "We scrambled to get the quote together, lined up dedicated fast-track trucks and hired temporary help," George said. "We were all set to go, but at the last minute the customer decided to wait until they had backup websites in place. They extended the building lease for a month and asked us to reschedule."
Invaluable Flexibility from Yellow Exact Express
George had booked six dedicated trucks through Yellow Exact Express, plus a few partial loads. The trucks would leave the Baltimore site by 7:00 each evening and arrive in Andover the next morning.
"Yellow got our business because they do a great job of figuring out how to get things done," George said. "As the requirements changed, I could call them at any hour, any day. They would put me on hold, call the trucking company and rearrange everything on the spot. Because they met our needs, I was able to keep customer happy."
900 Servers, To Go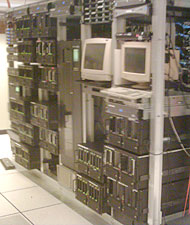 George and his team worked alongside four to eight temps over two Saturday and several weekdays to get the job done.
Each of 900 servers had to be disconnected from power and removed from a rack. Fifty extremely critical units were foamed in place; the rest were packed in anti-static bubble, stacked on pallets and shrink-wrapped and banded in place. All the racks, cables, and miscellaneous other equipment also had to be packed and palletized.
"Every day we worked, we got more efficient at it," George said, "but it still took lots of late hours. You can't do this type of job unless you gear up for it."
Specific Pricing Protected Profitability
Because there so many unknowns, George made sure his quote was very specific about what the pricing covered. New services were added in as the job progressed, and Navis was paid for waiting time whenever the NaviSite technical team had to finish tasks ahead of them.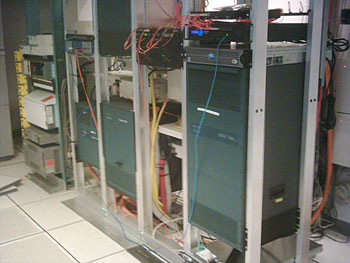 As a result, the job was not only MD-1075's biggest job ever, but also one of their most profitable.
"The customer was very impressed with Navis, and not because of our name," George said. "They said they would call us again anytime they needed packing and shipping in the mid-Atlantic region."